Media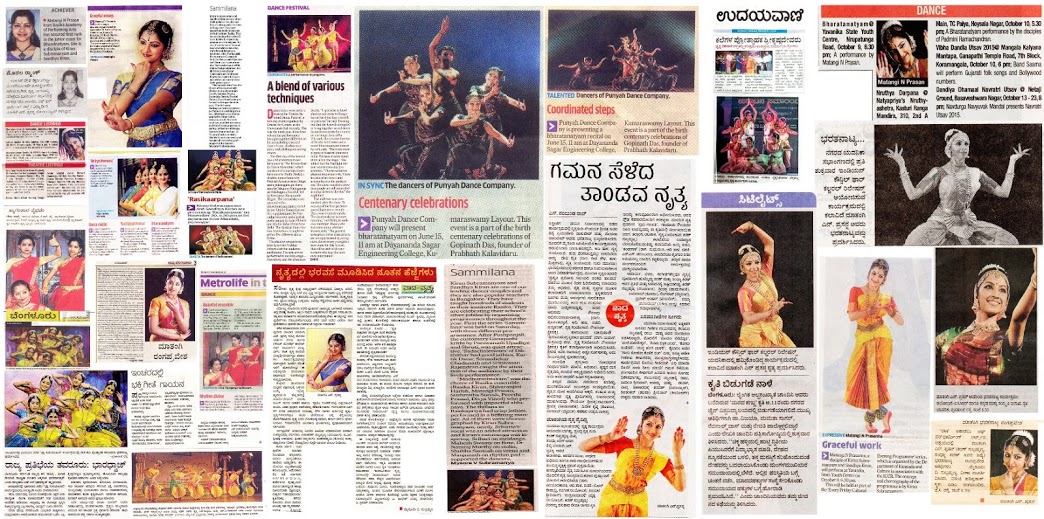 Reviews
Matangi is a fine dancer, energetic and sprightly in her performance. She is certainly a joy to watch. In the Devernaama she delineated the roles of Krishna and Gopika with complete ease. The usually mundane chores were performed with spirit and Matangi impressed with her abhinaya.
- for Ananya Kalasinchana , by Smt Usha R K Renowned Activist for Performing arts in India & a Dance Critic.
Matangi Prasan was an adorable Nandi-Bull. With her look of big eyed innocence and light-footed leaps (she moves with such precision and ease) she made a great vehicle for the ever-dancing Siva.
-for Narthaki.com by Smt Ramaa Bharadvaj, Senior Bharathantyam Guru and Performer
Matangi's clean hand movements, well-emoted and beautiful face, wholesome Abhinaya (enactment of expressions) combined with immaculate footwork added to her intricate Nritta movements. Her performance received well-deserves applause and praise through the program
-For Praja Vani, by Shri Nanjunda Rao, Art critic, Bangalore.
Being a student of "Rasika", and even though this was her Rangapravesha (literally, debut stage performance), the stage and the limelight seemed like nothing new to her! Her very first composition on stage was a solid proof of this. Matangi outperformed herself with her Rangapravesh..She lit the stage with her presence.
-For Praja Vani, by Shri Mysore V Subramanya, Senior Art Critic, Bangalore.
She attempted what one rarely gets to see in classical dance.. Beginning the dance after 2 letters. She showed God gifted skills in both Abhinaya and rhythm. She brought a fresh perspective to the production through her movements.. her graceful acts created a blissful ambiance among the audiences.
-For Udayavani, by Shri Shadakshari, Art Critic Bangalore.
---